Kings of the Fishing Village
Tour Highlights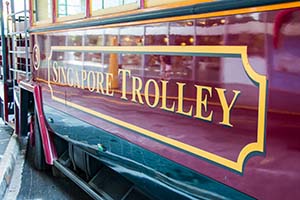 Classic Trolley
The Classic Trolley is a truly inventive vehicle that harkens to the past. Styled like those of yesteryears, it is fitted with outstanding features and aesthetics perfectly suited to today's discerning traveller.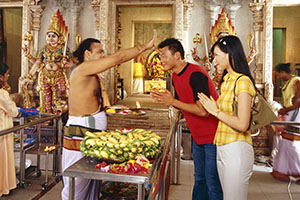 Little India
One of the ethnic enclaves where you can find Tamil cultural elements, the place to visit for a glimpse into the lives of the Indian community in Singapore.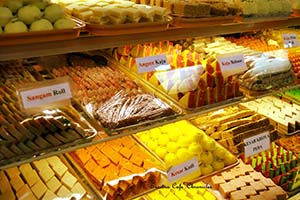 Sample Ethnic Pastries
Little India is home to a delicious cake extravaganza – expect to taste mouthwatering ethnic sweets and freshly baked pastries on your journey.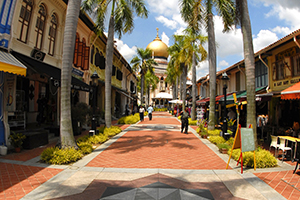 Kampong Glam
Once a fishing village and Malay and Arab settlement, it now houses old heritage buildings and iconic places of worship.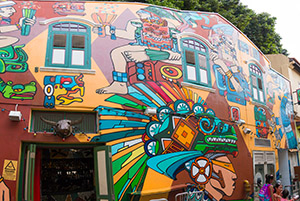 Graffiti Wall
Craving a break from the seemingly sterile outlook of the city? Arab Street and Haji Lane are places you can find stunning street art. From dramatic graffiti, wall murals and colourful paintings, this eclectic array of masterpieces will take your breath away.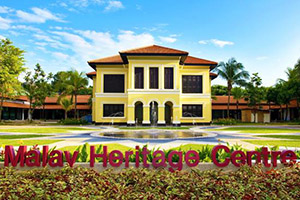 Malay Heritage Centre
Previously the Istana Kampong Glam, it was once the royal seat of the Malay sultans in Singapore.
Overview
Little India and Kampong Glam are the two ethnic precincts covered in this tour. First stop: Little India. Hop off at the heart of Little India and discover how the first Singapura ruler/king, a Sumatran Hindu, influenced the region with his reign. It is also here that you will find anything from saris to shoes, jewellery to fragrant spices as well as sample local pastry desserts.
Next, hop onto the trolley to visit Kampong Glam, the Malay and Arab enclave. Visit the Sultan Mosque and tune in to the history of Singapura's monarchy. Then, walk along Arab Street and Haji Lane for Persian carpets, kebayas (dresses) and handmade perfumes.
Finally, get back onto the trolley for a scenic drive down the Civic District, Merlion Park and Marina Bay Sands before heading back to Suntec Tourist Hub.
This tour is ideal for guests interested in the Indian or Malay heritage and culture, especially relating to the monarchy of the past and the early migrants who settled down in Singapore during the early 1900s.
Highlights
Little India – As its name suggests, Little India is the heart of Singapores Indian community. Rich in culture and deeply rooted in tradition, this precinct boasts streets that offer loud, unique and flavourful experiences. Here is where you can sip a cup of chai (Indian tea) and get a henna tattoo (mehendi) by professional artists. Come festivals, Little India transforms into a magical destination where mythology meets modern day devotees.
Kampong Glam – Kampong Glam has its origins as a fishingvillage at the mouth of Rochor River. The Malay word 'kampung' means 'village', and the area was known for the gelam tree (or Paperbark Tree) that grew here and was used for building ships.In 1989, Kampong Glam was gazetted as a conservation area and today, it is preserved as a historic part of town.
Malay Heritage Centre – Dating back to 160 years ago, the sprawling grounds of the Istana Kampong Glam is home to the Malay Heritage Centre. Featuring artefacts, murals and multimedia displays across nine galleries, the museum traces the history and material culture of the Singapore Malays, as well as their contributions towards nation–building.
Marina Bay Drive Through – The embodiment of all things modern, it is where tourists can revel in breathtaking architectural masterpieces and new city living.
What to Expect
Sightseeing

A buzzing historic area that reveals Singapore's Indian community's vibrant culture, Little India is amazingly peppered with Hindu and Chinese temples, mosques and churches – a veritable testament to the city's multi-cultural ways. Discover the amazing showmanship of the Indian tea brewers as they "pull" the hot milk tea to give it its signature smooth, flavourful finish. Here, you can also pick up anything from saris to jewelry to art pieces of olden-day trades

Boasting an eclectic blend ofhistory, culture and a trendy lifestyle scene all at once, some may be surprised that Kampong Glam has its origins as a fishing village at the mouth of Rochor River. The area used to be allocated to the Malay Sultan Hussain Mohammed Shah and others in the Muslim community, including Arab and Bugis traders. Today, it is home to a plethora of culinary delights, multi-label stores, traditional wares such as Persian carpets from Arab Street as well as quirky cafes.

Built more than 160 years ago by Sultan Ali, the son of Sultan Hussein Shah, the Istana Kampong Glam – now the Malay Heritage Centre – was once the royal seat of the Malay sultans in Singapore. Immaculately restored, the Centre sits within these well-preserved grounds and provides valuable insights into the history of the city's Malay community through rare artefacts and colourful exhibits. Honouring the original layout of the first Istana Kampong Glam, the permanent galleries span the upper floor and the ground level.
Experience

Discover the sights of Singapore on board the beautiful Classic Trolley – styled like those of yesteryears, but fitted with features and aesthetics suited to today's discerning traveller. A fully-guided sightseeing experience, you'll get to venture into the nooks and crannies of the city's famed ethnic quarters and tread the path less taken. Reward yourself with an opportunity to sample yummy ethnic pastries found nowhere else in the world on this tour.

Tips:
1. Wear comfortable shoes as there is a fair amount of walking to do.
2. Apply sunscreen or bring a visor.
3. Bring an umbrella in case of rain.
4. Don't forget your camera – plenty of photo-worthy moments await.

Check-in Information
Start Point: DUCK & HiPPO Tourist Hub (Suntec City #01-330) or Singapore Flyer (#01-06)
Tour Duration: Approximately 3 hours
Departure time: 2:30pm on Tuesday, Thursday and Saturday
Admission: $43/A, $33/C (3-12 years old)

For reservations, call +65 6338-6877