Charter Services
Corporate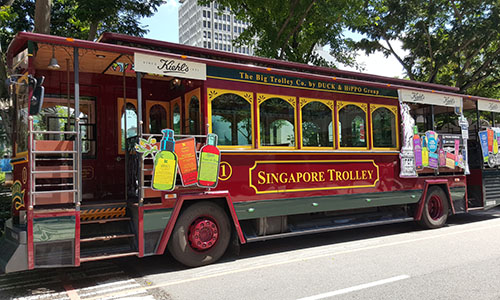 On Your Way To A Spectacular Show
Do you have overseas guests who are history buffs and want a whole new tour experience, complete with a beautiful ride, live commentaries and on-foot exploration? Book the Classic Trolley tour and take a private guided tour where your requests can be duly accommodated – be it making a visit to non-alcoholic perfume shops at Arab Street or seeking outdelicious eats unique to Singapore. A charter with a customised itinerary* would be the perfect arrangement for cultural exchanges or visits from foreign universities, embassies and international foundations. Say goodbye to run-of-the-mill team bonding activities and go on an experiential journey led by knowledgeable tour guides across Chinatown or Little India/Kampong Glam!
* We can accommodate requests for pick up/drop off at hotel or any other location
Private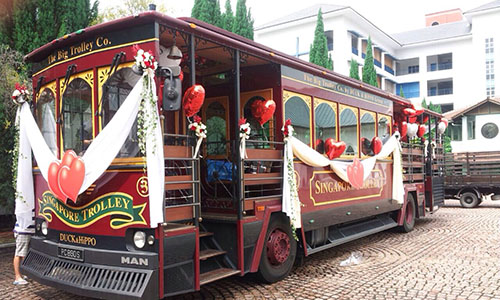 Journey Of A Lifetime
Truly the choice of the well-travelled, an exclusive arrangement on the Trolley Tour is the hallmark of cultural tours. This is one classic adventure you can gift your loved one – be it a birthday, anniversary, honeymoon or graduation trip – and explore the famed ethnic quarters of Singapore in close-knit company. Not only will you get to board the uniquely themed vehicle, you'll venture close to architectural marvels and taste culinary delights that date back to the early 1990s. Under a customised itinerary, guests who prefer anin-depth alternative get to deal with profound subjects of historical importance at Chinatown or Little India and Kampong Glam, led by a top-notch personal tour guide who can bring the bygone days back to life through timeless stories.
* We can accommodate requests for pick up/drop off at hotel or any other location